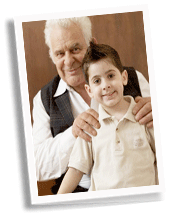 What is AMKA?
The AMKA (Social Security number) is in essence the work and insurance ID of every employee, pensioner and dependent member of their family in Greece.
With AMKA, services will be easier and faster in all your transactions concerning employment and insurance such as beginning employment and insurance, paying your insurance contributions, issuing or renewing your health booklet, getting your pension or any benefits. All these will take place with a lot less delay and a lot less bureaucracy.
AMKA replaces the registry number which the Social Security Institutions supplied until today making your life even easier.
It will be necessary as of October 2009. It will be provided at all the KEP and AMKA offices in operation at the Social Security Institutions.
Why is the AMKA necessary?
With the AMKA and the 13 new Social Security Institutions, the foundations are set for a new functional structure of the Social Security system, promoting and reinforcing the Social Security reform. In this way:

The foundations are laid for modern, simplified benefits in basic areas of the citizens' everyday life such as:

The area of health care, by acting immediately against wasting the Security Funds' resources, in order to improve benefits.

The area of work and insurance of working people, since their rights are protected by combating contribution avoidance.

The area of pensions, by significantly reducing the time required for issuing a pension.

The competent institutions are modernized and the services provided are improved, making transactions easier for all of us.

The time required for a pension to be issued is reduced, especially in the event of successive insurance.

Finally, by supporting the European Union standards, the insurance, health care and pensions of citizens working in other European Union countries are made easier.